Before Your First Day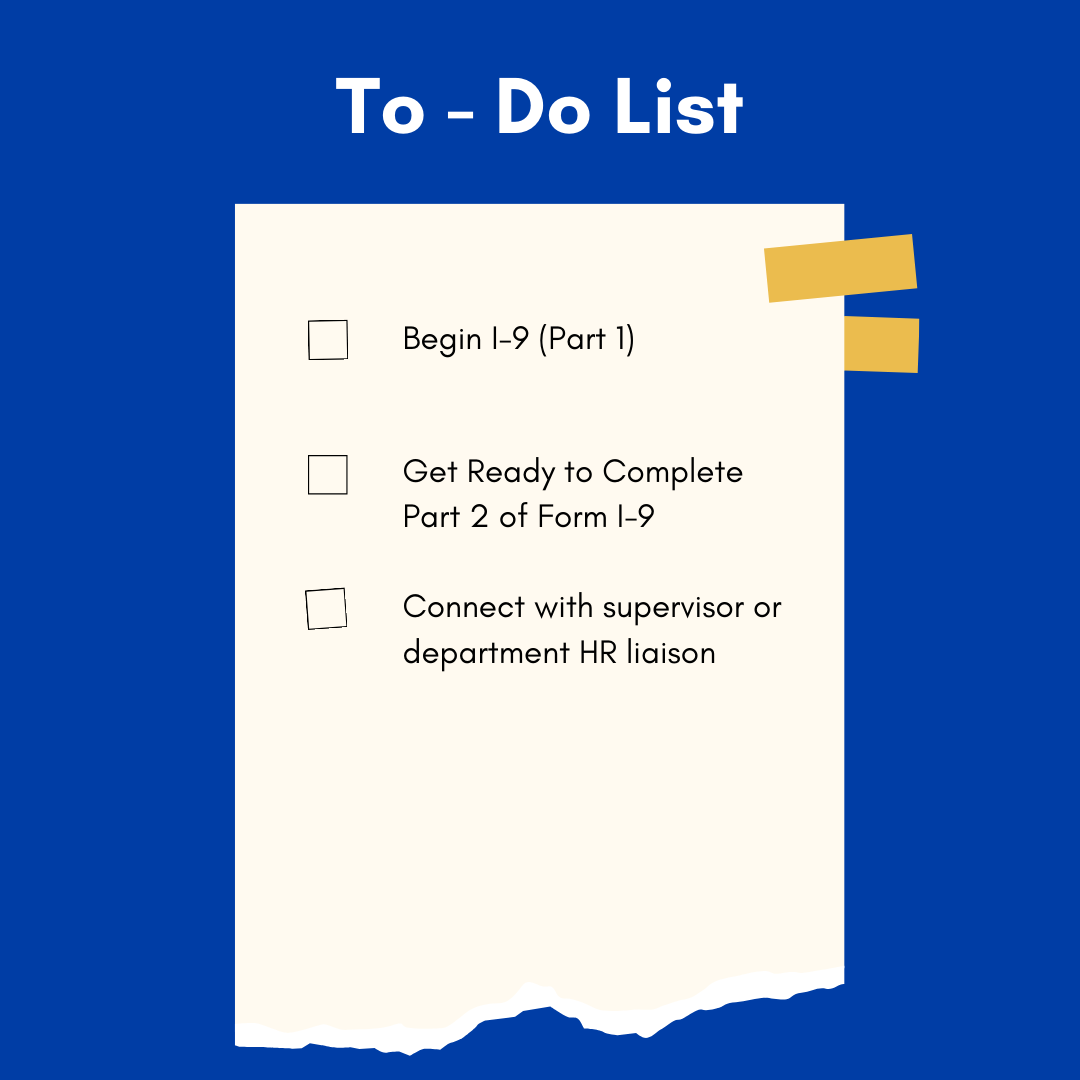 Instructions
Completing Part 1 of Form I-9 process. You will receive am email from from Human Resources inviting you to complete Section #1 of the Form I-9.
Getting ready to complete Part 2 of Form I-9 process.
Connect with supervisor or department HR liaison. Communicate with your supervisor or an department HR liaison. Questions you may want to ask are prior to your start date may be:
Start time, when to arrive or what your schedule will be,
Where to report when you first arrive or if required, how remote work should take place
How to get set-up with technology, if applicable
Dress-code expectations, if applicable
What to bring on your first day, if applicable
Your supervisor's phone number or who to contact for additonal questions.Your First Week
---
Your First Week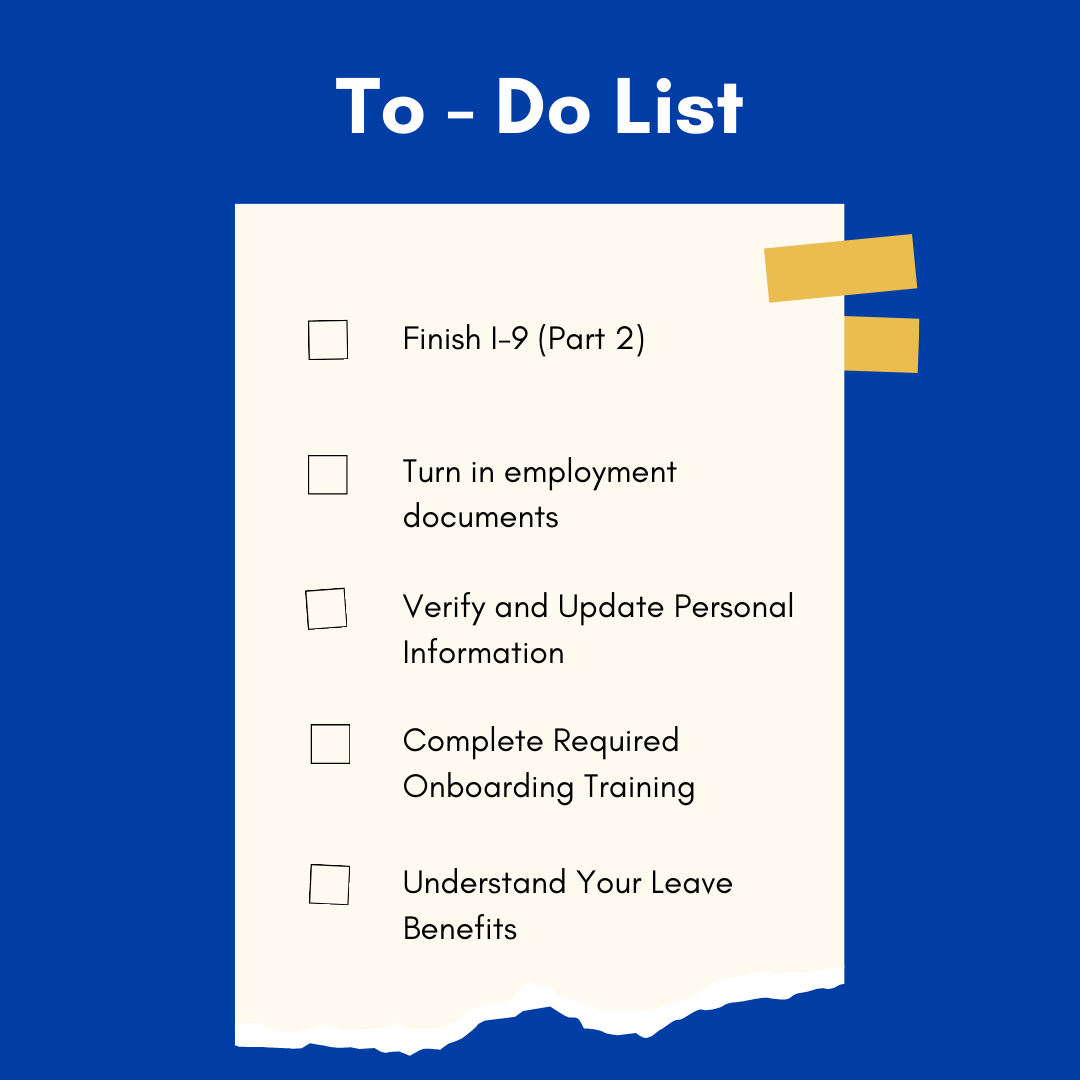 Instructions
Finish I-9 (Part 2)
Location: 217 Phillips Hall, CPO 1450, One University Heights (2nd floor)
Hours: 8:00am – 5:00pm, Monday – Friday (by appointment only)
What to Bring: The employee should provide acceptable documents to complete the I-9.
Turn in employment documents
Verify and Update Personal Information
Mailing Addresses: Correct home addresses help determine state taxes and up-to-date mailing addresses ensure important documents, such as your W-2 and benefits card, quickly get to you by mail.
Contact Details: Make sure you can be reached: Add or update your phone numbers and email addresses.
Emergency Contacts: In the event of an emergency, make sure your contacts can be reached by adding or updating their information.
Preferred Name: If you have a preferred first name, other than your legal first name you can update.
Bulldog Alert Preferences: Email, text messages, and voice messages will be sent to users who are registered at oneport.unca.edu. Follow the instructions in the message and seek more information about the emergency through the BulldogAlert webpage.
Complete Required Onboarding Training
Understand Your Leave Benefits
Visit the leave and holiday page to find what kind of leave you are eligible for and accrual information based on your position type.
---
---
First 30 Days: Enroll/Waive Benefits
Employee Eligibility
Permanent full-time SHRA and EHRA employees working 30 or more hours per week are eligible for all benefits.
Permanent part-time SHRA and EHRA employees working 20 to 29 hours per week are eligible to participate in supplemental benefits such as NCFlex, supplemental retirement (403b, 457), pro-rated leave and contributory health insurance.
Click here for additional information regarding Benefits Enrollment.
Your username and password will be the same information you use to access your UNC Asheville computer/email or OnePort login.
For additonal information contact:
benefits@unca.edu
Melanie Johnson – mjohns15@unca.edu
Karla Piccirillo – kpicciri@unca.edu
---
Your First Year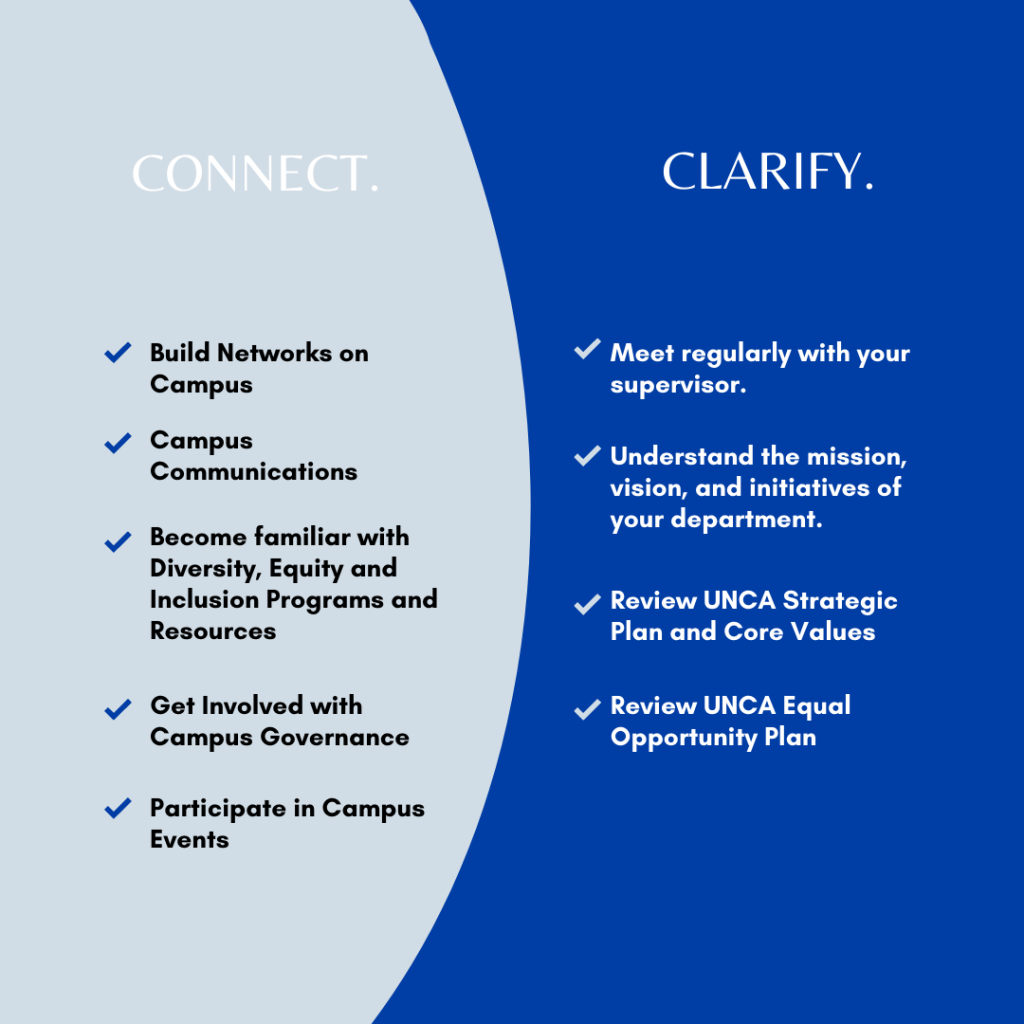 Connect.
Build Campus Networks
Look for campus events that have the opportunity to connect with others across campus.
Volunteer to be a part of a committee or task force. Let your supervisor know of your interested if the opportunity comes up.
Take Advantage of Campus Communications
Read the Weekly Wag employee Newsletter
Read the Monthly UNC Asheville newsletter
Feature stories, UNC Asheville Magazine and stories.unca.edu
Follow Social Media Accounts'
Become familiar with Diversity & Inclusion Programs and Resources
Get Involved with Campus Governance
Staff Counsel

Staff Council exists to support the continuous improvement of the University's organizational capacity by supporting an engaged and thriving community where staff have a voice and impact on the University's mission and models innovative collaboration in higher education.

Faculty Senate

The Faculty Senate shall be responsible for maintaining communications between the faculty and the administration, the student body, and the staff. It shall establish rules and procedures for standing committees and shall be responsible for overseeing the election of Faculty Senate members.
Participate in Campus Events
Clarify
Meet regularly with your supervisor.
To ensure that you understand performance expectations, meet with your supervisor often and/or when possible.
Understand the mission, vision, and initiatives of your department.
Look for opportunities within your division or department to understand the mission, vision, and initiatives of UNCA.
Review UNCA Strategic Plan and Core Values
Review UNCA Equal Opportunity Plan